In order to ease myself into this post smoothly, I'm going to inaugurate with a disclaimer; I like Rihanna and if you have had a wee gander through this blog's archive, you would get that impression. Also, I do not feel that it is anyone's place to give critic on what others wear - it's not called "self expression" for nothing, right? I don't believe in these
Sack the Stylist
columns that crop up time and time again in magazines - let those who are without fashion sin cast the first stone and whatnot.
However,
with the availability of free speech, I feel the need to vent my distaste of a particular mode that is beginning to flaunt it's ugly head. This "trend" in question being the donning of a trend from head to toe.
There is no doubt that Rihanna's style has soared since her, erm, rather risque
Rated R
era. With
Talk That Talk
, her style has flirted with grunge and underground trends that, due to this affiliation with influential people like RiRi endorsing them, have sprung forth from their commonplace underground and made the transition into the mainstream.
Boy London, a 1970's punk brand founded by Stephane Raynor and a typical example of the above "underground trends", has, as of late, received this elevated status. As seen on the likes of Jessie J, Cher Lloyd and Rihanna, herself, you can only sit and ponder how long it will take for Primark to contrive a series of knockoffs. But the issue doesn't lie with the commercialisation of underground brands that would have remained, well, underground had they not have been scouted by A-list stylists. No, the real issue is when people (just like you, Rihanna) fail to remember that you can indeed have too much of a good thing.
Rihanna appeared on The Jonathan Ross Show tonight (3rd of March for those of you without a calendar or awareness of the year that is flying in), presumably to promote
Talk That Talk
and, coincidentally, talk that talk. Decked out entirely in Boy London, her skirt and blouse were adorned with the brand's eagle symbol and name. She topped off the look with black ankle boots and a, surprise surprise, Boy London peaked-cap with the brand name emblazoned across, inspiring many a dud joke like this one I whipped up just now: "What's black and white and Boy London all over?" Queue a
badum tish
, the croaking of crickets and more embarrassingly, a wandering tumbleweed. Tasteless jokes and digressing are my specialty.
Whether the "in your face" use of the brand was to ensure Rihanna didn't forget who designed her outfit if quizzed or as a bold declaration of "I'M WITH THE TRENDS, GUYS!!!!!!" she managed to get her point across. I find it incredibly tacky. On saying that, I'm going to retreat to my original statement to protect myself from any viral whiplash (and/or umbraged feedback from Rihanna's Navy devotees) - I like Rihanna, I truly do, but there is nothing stylish in overdoing something like this, a trend or any aspect of an outfit. And Rihanna is most certainly NOT the only one.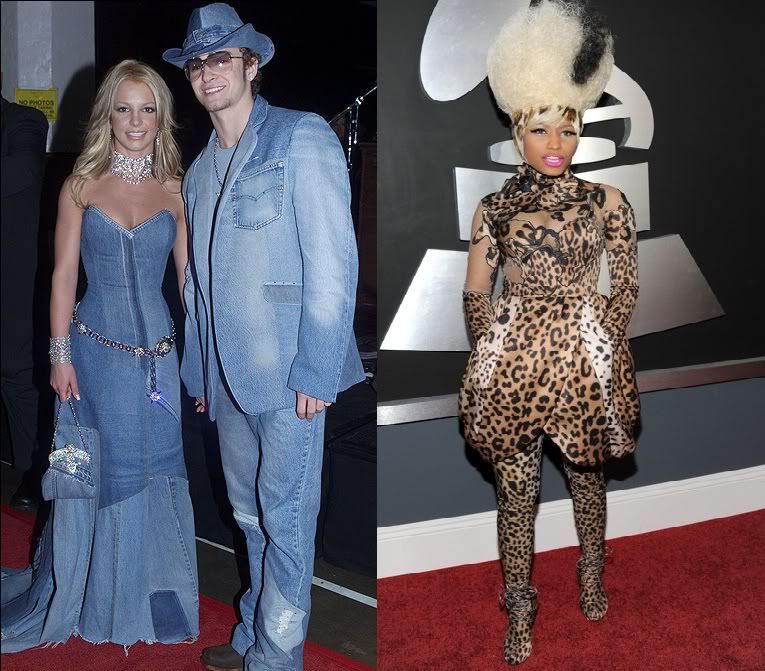 Nicki Minaj, a major culprit in this department. Again, I like Nicki but an entire getup (weave and all) in leopard print is hardly chic, or aesthetically appealing. In fact, it reeks of laziness. Rewind a good few years back to the early Noughties, the seeds of matured Mouseketeer romance blossoming in the form of matching triple-denim ensembles for His and Her. Sometimes I wonder whether this was the real reason behind Justin and Britney's bitter split and not all that "Cry Me a River" jazz. How they even wormed their way back into red carpet events is beyond me. And for the sake of his future children, I hope JT has had that rhinestone-ridden cowboy hat burned.
So, Rihanna, sometimes less really is more. Maybe the next time consider Mademoiselle Chanel's wise words the next time you feel the need to don your brand
du jour
from head to toe: "
Always take the last item you put on, off
" - and possibly the second and third too. Everything in moderation.