You are cordially invited
Please forgive me for my use of a terrible pun, but there was definitely something fishy going on with the Chanel S/S 2012 collection at Paris Fashion Week.This show was too perfect to escape a blog post. Hosted under the glass-domed roof of the Grand Palais, it was very much
under the sea
(I hope you're all humming that for the rest of the day now) with a very tranquil looking catwalk which was the length of two football pitches; an underwater inspired paradise with clumps of seaweed, shells and "bubbles".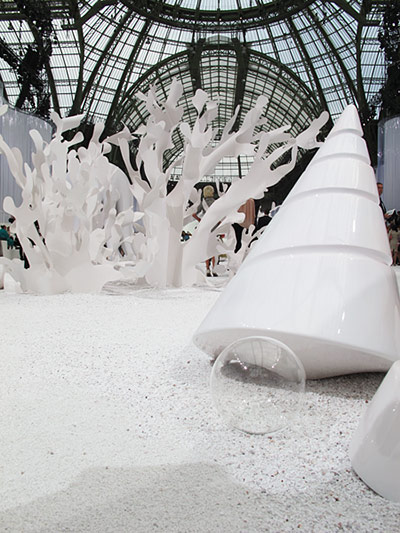 One by one, the models began to emerge from a bubble-infested cavern. The first few monochrome outfits are pretty basic - knee length skirts, structured shape and practical. A minute or so in and we start to get a taster of the pastels that seem to be so popular for Spring/Summer, after Daphne Groeneveld, in a glitter adorned white ensemble - the perfection being that it doesn't end up looking tacky. When they zoomed in on her, that's when I noticed, all the model's had pearls adorning their slicked back hair. A cute, fitting accompaniment to the underwater theme.
The outfits were very much sea inspired, the shapes and patterns reminded me very much of fish; the use of metallics symbolizing the metallic sheen of a fish, the criss crossed patterns that resemble a fish's scales, chiffon skirts flaring at the bottom recreating the shape of a fish's tail.
A fusion of very 90's transparent, plastic rain coats, chiffon, florals, metallics, and of course, the trademark tweed jackets and quilted, chain bags.
As if this wasn't a spectacle for the lucky front-rowers, the life sized clam opened itself up to reveal Florence Welch, concealed inside. Welch proceeded to sing What the Water Gave Me (another cleverly suiting addition) looking like a modern day, Chanel-clad Venus, while the models continued their rounds along the "seafloor".
On the beauty side, were pearlescent nails with matching eyeshadow and natural groomed brows. It was a very metallic affair, and natural like the sea itself.
All in all, a very cutesy, mermaid inspired show. My favourite was the minty coloured outfit worn by Lindsey Wixon.
I don't know about any of you, but this show was most aesthetic to behold. Ya done good, Lagerfeld.