A cancelled trip to the cinema turned out to be a successful day of thrifting and discovering hidden gems that I would normally turn a blind eye to in all my haste to get somewhere else.
Accompanied with my partner in crime,
Shannon
(who finally bought her Creepers, to which I had to beg for her to give me lendsies-and-never-give-backsies), I managed to find some lovely things for which I can proudly boast "I DIDN'T GET THIS FROM URBAN OUTFITTERS OR TOPSHOP" with a triumphant air of pure smugness about me.
First is an acid wash denim jacket. I adore the tacky, late-80's look. Anything that makes me look like an extra from Saved by the Bell. This does the job. After leaving Urban Outfitters -unwilling to pay over €35 for a tshirt- a quick chance, hence the post title, scope into a little second hand shop across the road led to my accidental meeting with this one of a kind beauty. I danced around the shop with it, probably embarrassing the hell out of Shannon, and took to wearing it straight away. I really don't like taking it off.
As we left, two giggling schoolgirls indulging in some retail therapy, we were halted by a Brazillion woman who ran a
blog
about her life in Ireland for people in Brazil and asked could she take our picture because she wanted to see what people in Ireland wore. It felt nice being "papped" but unfortunately the picture turned out terrible - please ignore my silly pout and awkward poise. I'll never be a model, but i really love what I was wearing that day.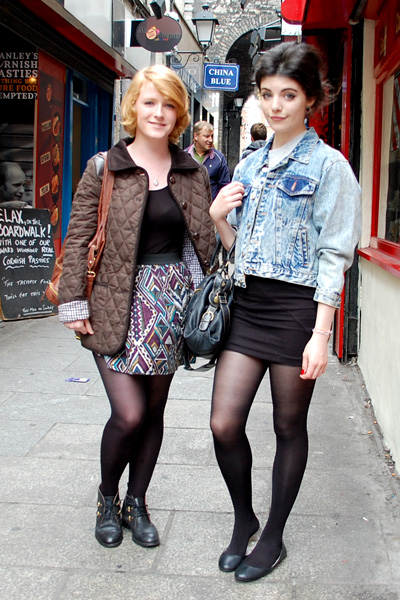 We concluded our "lucky" streak with a, what we said would be quick, visit to a flea market at the Grand Social bar across the Ha'Penny bridge -stopping to admire the "Troll Below" as contraversial as it is. Peronsally, I love it. Shows that even in such a boring city where everyone is down in the dumps, that someone has a sense of humour out there.
The flea market captivated us with it's many treasures. Spotted a cute little pair of moccassins slippers for €5,
RECESSION BUSTA.
But I ended up spending my last tenner on this babin' -may not be in dictionaries- leather rucksack. Oh, how I love it so. And thanks Shannon for lending me €2 which I am yet to pay back
Yours sincerely,
Your seriously skint friend.